Launching a new client website is all at once a thrilling and daunting endeavor. As with any project, the team must meticulously dot the proverbial i's and cross those t's. As the QA process gives way to launch, palms tend to get a little sweaty and eyes more focused on each letter typed and link clicked.
It is with great enthusiasm and an accomplishment-fueled joie de vivre (joy of life = joy of launch) that we announce the birth of three new websites – Century 21 Tri-Cities, CTE Logistics and Trombley Law.
Our friends at Century 21 Tri-Cities know a thing or two about great marketing – look no further than their incredible closings year by year and the subsequent accolades for the great work recognized at a national level. BrandCraft collaborated with the C21 Tri-Cities internal marketing team – including the awesomely incomparable Monteagudo sisters – to create a new website that helped real estate customers and clients alike to have an intuitive and exceptional User Experience.
The Century 21 Tri-Cities website project was a robust build including a responsive web template platform built to work on any device. The site uses auto-mapping features that dynamically populate maps at the click of a button. Agent and home listings are dynamic and easy to edit for the client. Advanced features and interactive design were key elements of this design process. Please don't hesitate to check out Century 21's new digital home at www.century21tri-cities.com and let us know what you think of the build.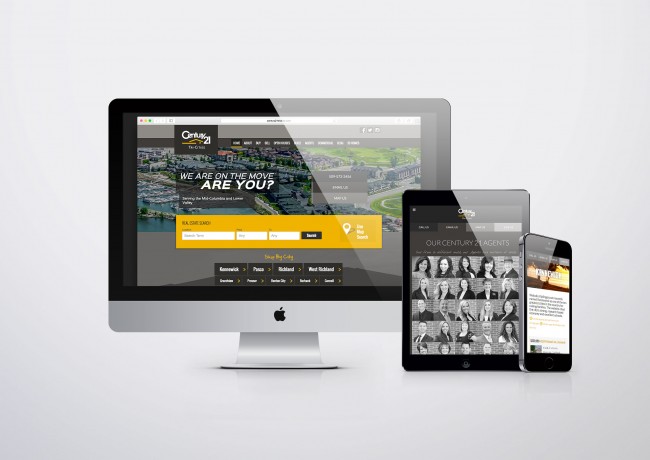 CTE stands for a Commitment to Excellence – which is the rally cry for our client in the freight logistics and warehousing marketplace. CTE wanted us to redesign their website with responsive features and a cleaner user interface. We started the project by photographing their new office and warehouse space in Sumner, WA. With over 130,000 of brand new space it was paramount to this project that we capture not only their new digs but the people who make things run smoothly day in and day out. So, with great images of real people and their actual space (none of this stock photo stuff) we set out to re-design the CTE Logistics digital digs.
The design sought to connect with three core audiences – two sets of existing clients who need to use their online portals for access to information and, of course, those potential clients looking for Transportation and/or Warehousing needs. With special attention paid to SEO on both the back-end and front-end portions of the site, we coupled both clear, compelling writing with clearly communicated calls-to-action. We did not want to over design anything, instead looking to take pieces away until we felt there was nothing left to remove. All extraneous elements removed, we were able to launch a website with a super clean interface that was highly responsive and ready to compete in this competitive market. Less than a week after launch, CTE saw their first inquiry via the website. Logistics fully engaged, check out the new CTE site here.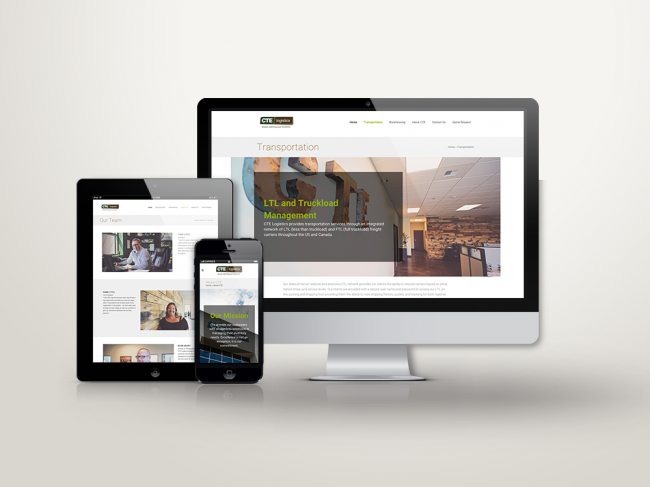 In the criminal justice system there exists a court to appeal one's conviction – they call this Appellate. Our client, Michelle Trombley, is an Appellate and Criminal Defense Attorney.
In an effort to provide order to her digital home court, we at BrandCraft set out to create a most distinguished website that sought to bring on more quality clients month over month. The Trombley Law PLLC makes clear her practice areas – so as to cut down on unnecessary inquiry ¬¬– and seeks conversion at every touch point. We also did in-house photography to ensure that we were able to cultivate a look of determination and professionalism.
Responsive and easy to navigate, we will work with Ms. Trombley over the year to ensure that keywords and terms are optimized, as the legal search world is saturated. With an overall aesthetic that is both bold and inviting, we made sure that contact forms and numbers were prominent and available for those who seek her legal counsel. Once again, WordPress was able to deliver with their open source plugins that are perfect for nearly any need big or small. Never underestimate the power of WordPress…or the experience of BrandCraft and Trombley…together we created a crackerjack website capable of bringing on new clients and cases. Please set a precedent by taking a look at the Trombley Law PLLC website today.